Did you know that an estimated 70% of change initiatives fail!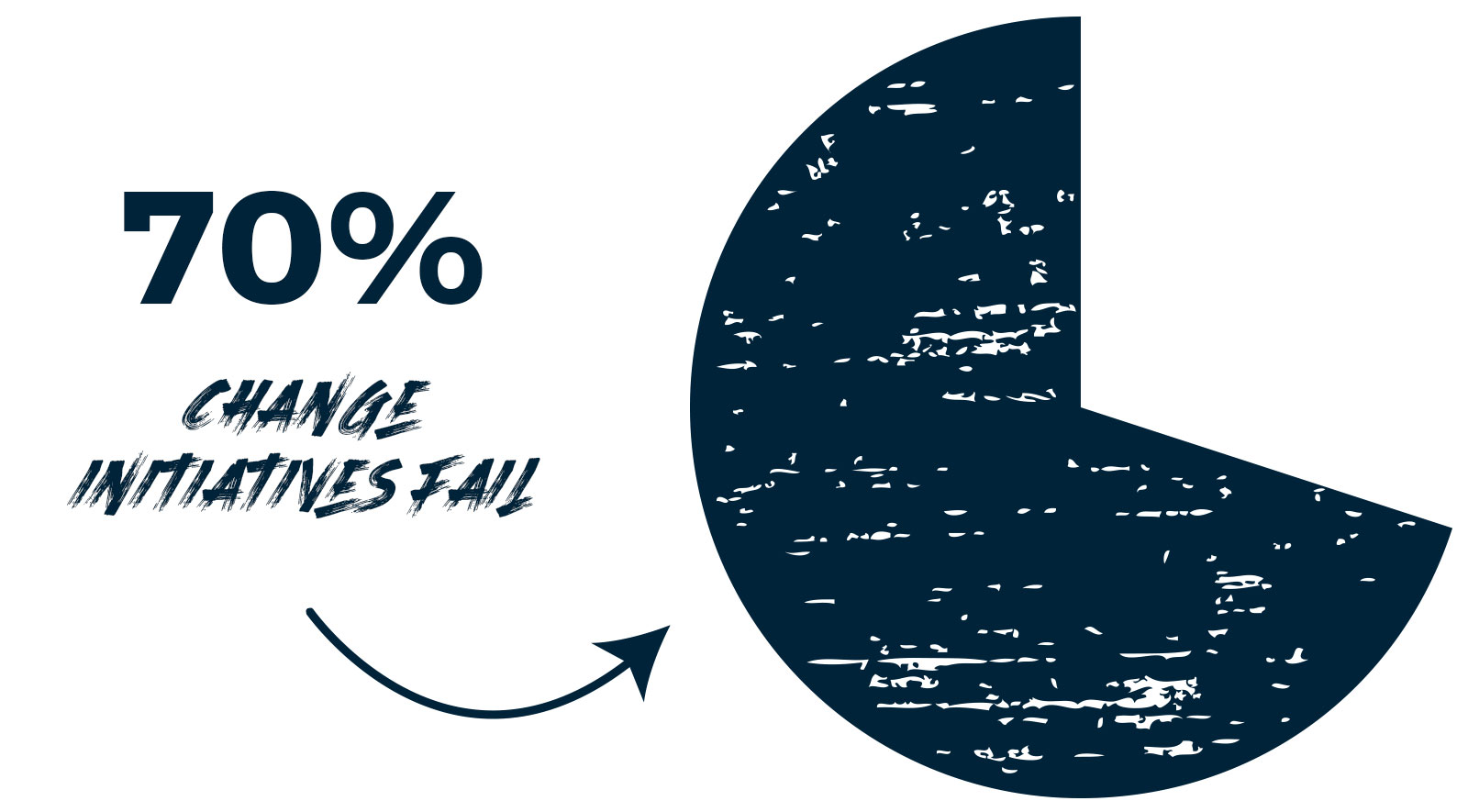 In a Forbes and PMI survey of over 500 executives, 85% of respondents identify change management as critical to avoiding change failures. This is because without strong change management, it doesn't matter how important or beneficial the change may be. It will fail. Let's look at why this occurs and understand what needs to happen for organisations to be successful with their change initiatives.
Change failure is generally considered to be the deviation of any change initiative from its expected goals or results. This can be seen in change programs as small as process changes, or as large as organisations closing their doors completely. To understand how to succeed with your company's change program, we must first understand the key reasons why these commonly fail.
THE 'Why' is not clear
Many people look at a problem and can quickly agree that something needs to change. They may even be able to articulate what needs to change and how it should be done. Yet there is always a key step that needs to be completed before going into solution mode. We need to understand WHY. It is the WHY that drives people to get on board. If this is not clear, resistance to change will always be higher than necessary and most likely will negatively impact outcomes.
The WHY must be one of the first areas to define. From here you can define the goal and reward. Without addressing this component, the following key reasons for failure will only be exacerbated.
Lack of leadership
Leadership expert John Maxwell states that "everything rises and falls on leadership". Good leaders inspire those around them.
They motivate others to be better, work harder and align to the cause. Good leaders provide the vision. They also create environments where people feel valued and contribute to the goal. Don't underestimate the effect of good (or bad) leadership on the outcomes of any change initiative.
Poor planning
At times leaders can be so focused on the goal, they fail to adequately plan for the change. This results in unrealistic or misaligned targets, impractical timeframes, misallocation of resources and increased resistance.
Unfortunately, this often results in the project being doomed from the start. To combat this, there must be deliberate attention and time given to this area – particularly for early tasks.
Lack of engagement
This is greatly impacted by the abovementioned areas. You've no doubt heard the expression "your people are your greatest asset or greatest liability". This is true and evident when we look at the productivity and efficiency for engaged staff vs disengaged staff.
Yet it is also fair to say that most people don't go to work intending to do a bad job. They often do this through a lack of engagement. There can be many reasons why. These need to be understood and addressed to ensure your team are engaged throughout the project and operate to their full potential.
Poor communication
If the leadership within the organisation is strong, they will recognise the need for ongoing, open, and focused communication. It is also important to remember that a lack of communication can significantly impact the relationship with your customers as well. Therefore, it is important to communicate well with them throughout the changes as well. A few key points to keep in mind:
Keep it regular
Utilise different methods and make sure you keep everyone informed.
Communication needs to be open and two-way
Trust is crucial here. People need to feel like they have a voice. The best solutions will be achieved when there is constructive dialogue and feedback.
Celebrate wins regularly
Celebrate the small wins as well as the big ones. This keeps the goal attainable in people's minds.
Circle back to the WHY frequently.
Remember that this is what drives and motivates people. As a leader, you may have provided the vision. This needs to be frequently re-communicated to keep people focused on the reward.
Address shortcomings with honesty.
This builds trust and fosters an environment where failure is viewed as a learning opportunity rather than a disaster.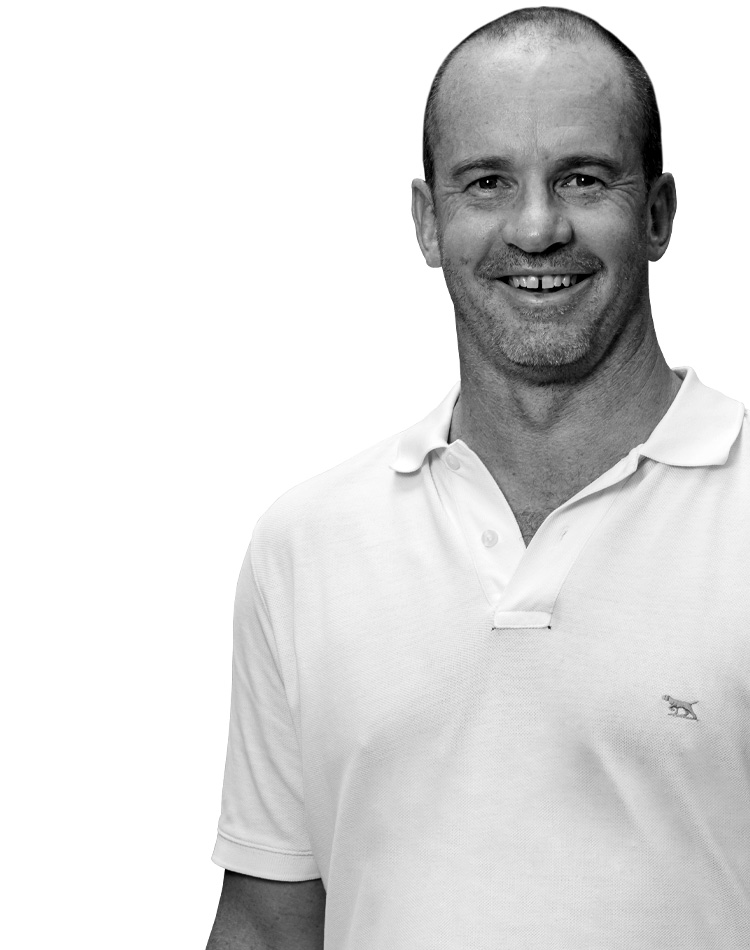 Lack of skills/training
With the greatest vision and plan, a change program will fail if the necessary skills and/or training are not present in each phase. By the time you get to the execution phase, it is too late to address many of these gaps. Instead, identify early what skills and training are required. Plan to address any gaps and review this at each project milestone.
Inability to harness or overcome resistance
Resistance to change is often viewed as being negative. However, we need to understand that there will always be some level of resistance. By nature, humans don't like to change. It is our ability to move past this that will determine our success. As discussed in our last article, Phase 1-3 of the Organisational Change Model shows the levels of resistance.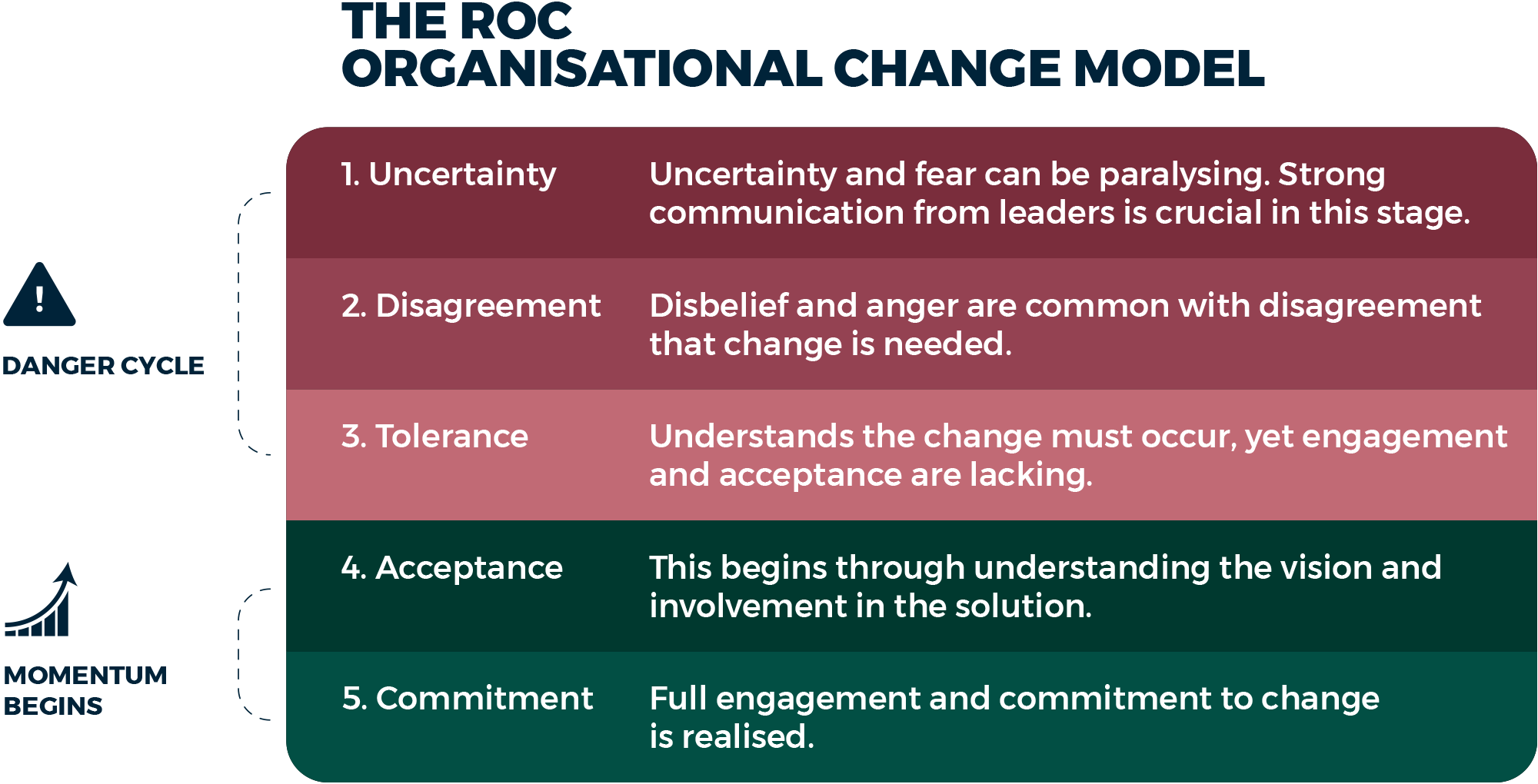 It is crucial that we understand where resistance is sitting to be able to address this. Often, moving our teams successfully to Stage 5 doesn't mean resistance disappears entirely. It simply means we are starting to harness our team's resistance and move collectively towards our goal. Doing this is challenging and requires an ability to step back and assess each situation (and team member) individually. It can be time consuming and painful. However, it is necessary. You will see that not only do your team become part of the solution willingly, but they will also start to offer advice, knowledge and assistance which will further enhance your chances of success.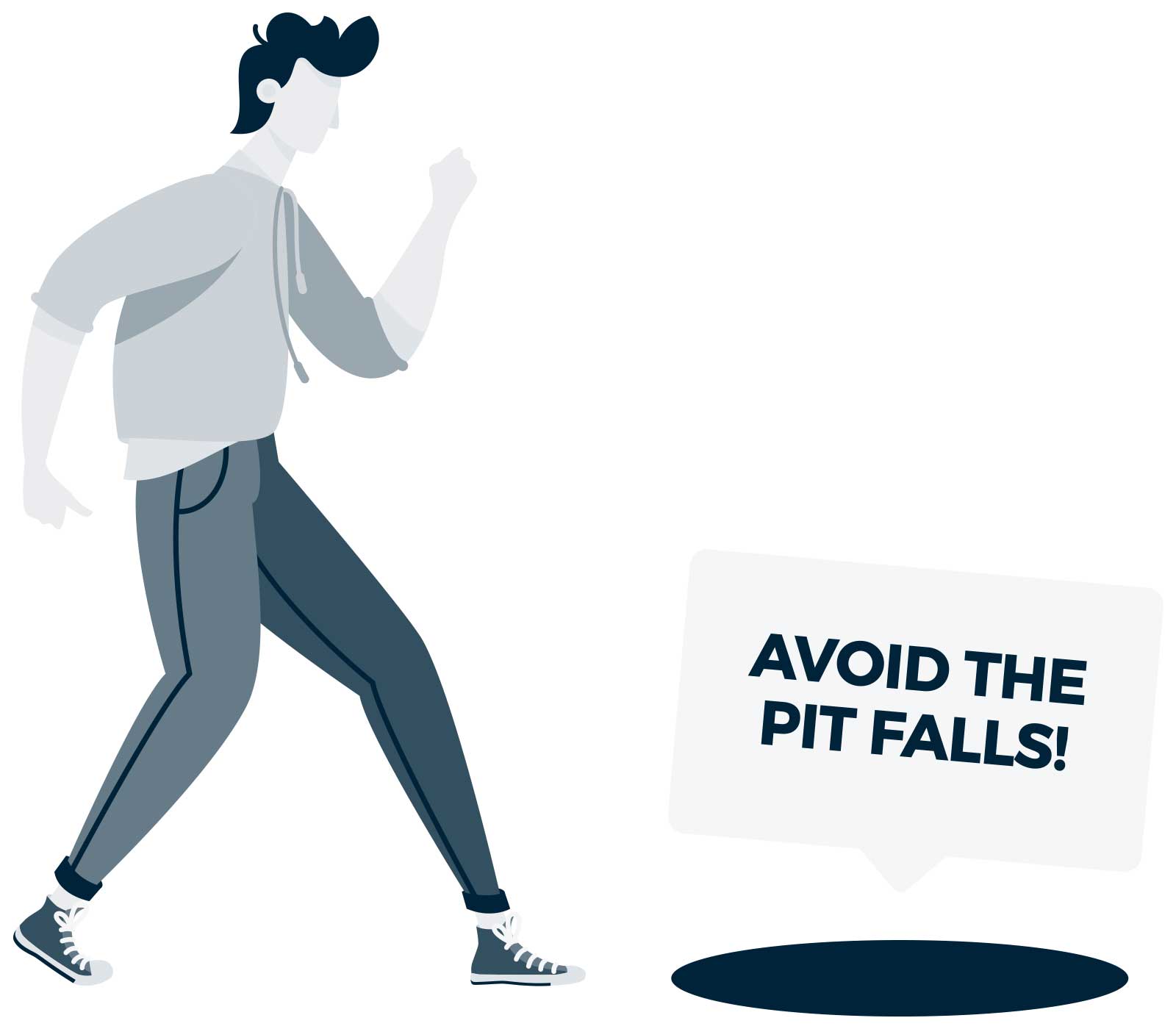 There are countless examples of where organisational change has failed. At ROC we want to avoid being on the wrong side of the statistics. To do this, we must learn from previous company's and people's mistakes.
Through understanding why previous organisations have failed in their attempts to implement change, combined with successfully addressing the 7 key reasons for change failure, your business will be positioned well to see the benefits of change for your people and organisation.
Ready to Change?
To learn more about ROC and help our team learn more about you, please book a Discovery session with our team via Calendly today. 
About
At ROC, solutions don't come out of a box ready to plug and play, they're customised to suit your journey.
We pride ourselves on identifying your pain points quickly and designing bespoke change strategies to address them, always keeping in mind your ultimate end game.
Discovery Sessions
Looking to change your company structure, corporate culture or want to introduce a new system or product.
Please contact us to discuss your needs and we will help point you in the right direction.